Harry Fairbairn
1/5
- I've been to the one in Giffnock a fair bit in the past, and to sum up they are overpriced and have poor workmanship. Did you know that it is actually owned by Arnold Clark?!! Says it all really!!
Here are a few examples from myself:
My aircon was on the blink and while checking the engine bay I noted that one of the metal air con pipes was split open. It was part no. 1 in the following diagram: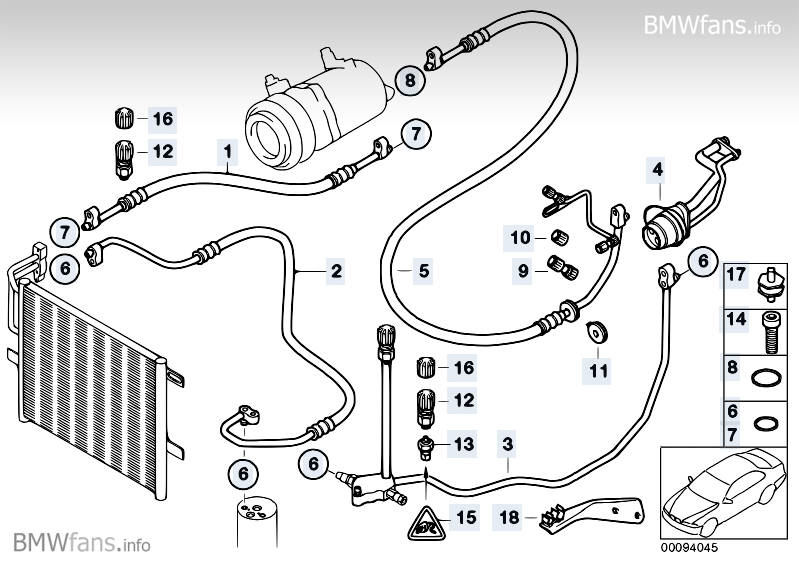 So I took it down to HF BMW, opened the bonnet and showed the sales assistant the split pipe. So we go in and he has a chat round the back with a manager, and comes back out. Now this part costs approx £55 from BMW (I didn't know this at the time), so how much do you think the estimate i was given to repair this??.........please be seated.......... £330 excl vat!!!!!! And then he had the cheek to say "but that might not be the cause of the AC not working", implying there may be further work requied and more oppurtunity to 'milk me'!
I left there pretty sharpish, and when I was next down in Dumfries i took it to BMW Dealer there, Crossflags, who did the repair and regassed the air con for..................£130 incl VAT!
And I'm not alone, if you'd like to read the opnions of more of their customers, check out "The Unix Nerd's" BMW Garage Guide:
Crossflags (Dumfries BMW Dealer)

3/5
Very good for a BMW dealer. Pricing is cheaper than Glasgow BMW dealers as well, although still more than BMW indies.
Service desk staff know surprisingly alot about technical aspects. Infact one of the female staff, appeared to have more technical knowledge than most of the staff at Harry Fairbairn!
BM Town (Coatbridge/Carluke)
4/5
Excellent, friendly, experienced, good quality work.
Premises are his large garage in his back garden, DO NOT let this put you off!! Admittedly if it comes to diagnostic testing, then he probably wont be as good as others.
Installed my H&R Cup suspension kit, replaced front 2 control arms, as well as replacing all the major front & rear bushes (cost approx £250 for labour, i provided the parts)
Doesnt like to fit aftermarket performance parts.
If he does the whole repair job, supplying parts, he'll use aftermarket parts instead of original BMW parts. This is ok for some things, but not for sensors, MAFs etc where its known that it's best to stick to original BMW parts.
Also a little snooty in sharing info, doesnt have much chat, and premises are a little grubby, diagnostic laptops lying on car bonnets and roofs. Got my car back from him and i had a set of needle nose pliers lying in my engine bay up against the bulkhead!!
Deutschtek (Charing Cross)
I was looking to get a E36 M3 and got these guys to to a pre purchase inspection of one, for £55 which included a engine compression check. Turns out the car had a lot wrong with it. The chap who did the inspection was very helpful, and went through the things that were wrong with it and offered further buying tips on the model.
Plan to take my own car there next time for a simple repair, see how good they are.
Riteway MOT Centre (Southside)
Watch out, these boys have been known to cause damage to a car, in order to generate work eg tearing a rubber boot seal on suspension/steering arms.
Chips Away (Southside)
1/5
Cheap, but crap. Had my mirrors painted, but paint started to peel after a year.