Was driving along at about 40mph at night and didnt spot a massive pot hole, and it was immediatley obvious something was broken in the steering. The car was pulling to the left quite badly, had to keep the steering at the 1'o'clock position.
Got home and had a look and the tie rod was bent :( Didnt get to take any photos but it is part no 4/5 drivers side.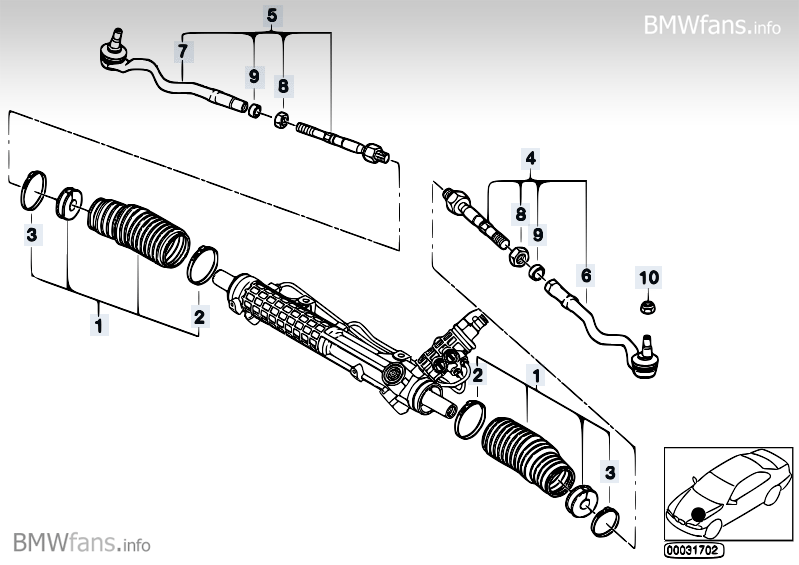 I got hold of the part for about £30 from GSF car parts and had to find someone quickly to fit the part and i decided to go to a local garage that had replaced my clutch the previous year. Total parts & labour came to £85, but they werent able to get the steering quite straight, took it back to them, and then it was pulling in the opposite direction!! Claimed thats just how it was! On top of that they scratched the paint work on the drivers side front wing!! By this point i couldnt be bothered arguing with them, and know not to bother going back.
So i ended up having to go to a BMW dealer Crossflags who did a 4 wheel alignment for £135! So much for quoting me £80 excl vat on the phone! Crossflags in Dumfries are actually pretty good, as far as BMW dealers go, but that aint saying much when my they're up against dealers like Harry Fairbairn!! More on the rip off merchants at Fairbairn another time!